WORLD CHAMPIONSHIP SILVER MEDAL!!
September 14th, 2009 av
Lisa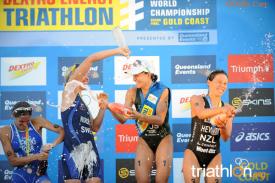 The second place in yesterdays Grand Final at the Gold Coast finalized my silver medal in the 2009 World Championship Series.
It's been a fantastic season for me and I'm very pleased with my consistency in top level racing like this.
 The preassure was on for the final and I knew I had to find something special inside myself to walk away with a medal. Everything fell into place in the race, much thanks to my coach Darrens detailed work and preparation.
I couldn't be any happier right now!