Ranked #2 Norden and Gomez
September 6th, 2009 av
Lisa
Ranked 2 – Norden & Gomez (September 6, 2009 )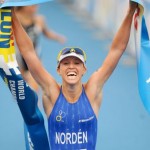 Sweden's Lisa Norden shocked a lot of people in 2009 as she made the successful transition from under 23 potential to elite race winner. With an impressive podium display across the season, including one win, she sits in second place behind Australia's Emma Moffatt, with every chance of landing the title in Gold Coast at the Dextro Energy Triathlon – ITU World Championship Series Grand Final.
Profile
Name: Lisa Norden
Age: 24
Born: Kristianstad, Sweden
Lives: Gold Coast, Australia & Davos, Switzerland
Website: www.lisanorden.se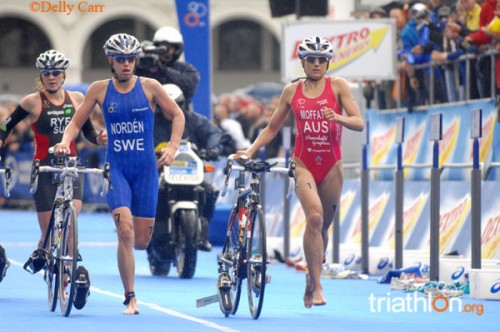 Norden kick started her season in Madrid where she was involved in an epic five woman battle for the win. Having headed Andrea Hewitt for most of the home straight she was narrowly pipped on the line. Cramp in Washington, DC left her down in thirteenth, but she bounced back with a well orchestrated breakaway in Hamburg which gave her a silver medal before a third second place finish in London. Breaking her duck in Yokohama, Norden grabbed the win, turning the tables on Hewitt.
 
Dextro Energy Triathlon – ITU World Championship Series Rankings
1 Emma Moffatt, AUS. 3140pts
2 Lisa Norden, SWE. 3020pts
3 Andrea Hewitt, NZL. 2766pts
4 Daniela Ryf, SUI. 2374pts
5 Sarah Haskins, USA. 2189pts
How Lisa Norden can catch and overtake Moffatt at the top:
If Norden wins then Moffatt must finish second to deny the Swede the championship glory.
If Norden finishes in the top six then Moffatt cannot be more than one position behind to stop Norden snatching the title in the final race.
If Norden finishes seventh or lower, then Moffatt cannot be more than two positions behind to prevent the world championship staying in Europe.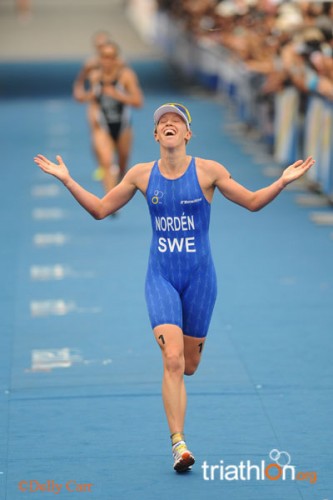 Javier Gomez, the defending world champion, is the only man to have beaten world number one Alistair Brownlee in 2009. The Spaniard got one over his rival at the European Championships and still has a strong chance of overhauling the Brit at the top of the Dextro Energy Triathlon – ITU World Championship Series Grand Final to land his second world senior title.
Profile
Name: Javier Gomez
Age: 26
Born: Basel, Switzerland
Lives: Ferrol, Spain
Website: www.javiergomeznoya.com
Despite starting the season in Madrid, still recovering from injury, Gomez put together a strong race to finish third before taking the runners-up spot behind Brownlee in both Washington, DC and KitzbĂŒhel. Disaster struck in London as Gomez suffered a mechanical problem and crashed on the bike, causing extensive road rash and skin loss across his back and shoulders. One week later he showed great determination in returning to the podium with third place in Yokohama.
Dextro Energy Triathlon – ITU World Championship Series Rankings
1. Alistair Brownlee, GBR. 3200pts
2. Javier Gomez, ESP. 2849pts
3. Kris Gemmell, NZL. 2559pts
4. Maik Petzold, GER. 2493pts
5. Laurent Vidal, FRA. 2404pts
How Javier Gomez can catch and overtake Brownlee at the top:
If Gomez can win at Gold Coast and Brownlee finishes sixth or worse, then he will be crowned as champion