LA Triathlon coming up
October 1st, 2009 av
Lisa
With the World Series Final behind me the most serious part of the season is over – but why stop when the fitness is on top?!
I decided to do like last year and head back to the states and do some non drafting racing.
I will start on the east coast with the LA Triathlon followed by last years success race in Dallas.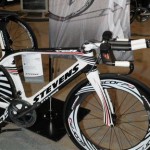 I'll pick up the brand new stevens Volt TT bike at Triathlon Lab in Redondo Beach. The bike is a beauty and will hopefully work it's magic!
You can read more about the races here:
http://www.toyotausopentriathlon.com/site7.aspx