Win in Offenburg
July 20th, 2009 av
Lisa
In the midst of my pre Hamburg training I was due down to Offenburg for the Bundesliga final.
The distance was a sprint and my team Asics Team Witten put forward a strong womens team to secure our two points lead to a win. After having won the german title for 10 years now they didn't risk a thing but to claim the title once again.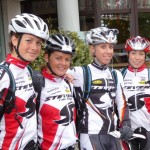 I lined up together with Kathrine MĂŒller, Lena Brunkhorst and austrailan Maxine Seears which all showed off great perforamnces. Together we noted the places 1st, 4th, 5th and 11th and won the days team event and also the 2009 Bundesliga. Team manager Richard Gutt was all smiles after the race and put on a big celebrational dinner at the hotel saturday night. The boys started off the season a bit unlucky but with a solid performance in Offenburg they also secured a top place and took home 2nd.
The race itself was fantastic. Coming down from altitude I felt great, but a little bit tired from all the training. I had a great start in the swim and could take the lead together with Christiane Pilz. My swimming keeps improving and posting the fastest swim of the day was great. I ran into T1 with a big smile on my face. Out on the bike we had a bit of a gap, we looked at each other and decided to have a go. We managed to increase the lead and it was pretty clear the win of the day was going to be battled out between the two of us. As I know my transitions now are pretty quick I used this to my advantage and had a gap alreday out of T2. I put the hammer down all the way to the first turnaround which was the first place where I could sneak a look back to see where Pilz was. The distance looked good enough and as I continued on running the focus went to the technical aspects of running and traying to find that fast and flowing feeling without using too much of effort.  By the end my lead was 45 seconds and I could enjoy a crucy finish where I soaked up the cheering from the crowd and the big grinns from the Asics support crew.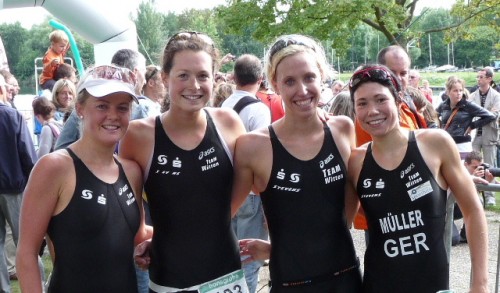 It was a great feeling to once again grab a banner and claim a victory. Sure enough it wasn't a world cup – but the feelin is still the same! Best of all was that I felt strong and had a great race straight trough. My body starts to feel a bit closer to race mode and I'm looking forward to starting of the next block (after hamburg) which will include more faster work outs.