Not the day I hoped for in Washington
June 22nd, 2009 av
Lisa
A cramp in the abdominal muscle prevented me from having the perfect day here in Washington DC.  Until the 2nd lap on the run course everything  had unfolded like the plan. I had a great swim in the pontomac river which set me up for a nice race.  There was a smaller pack 30seconds ahead of us but already after a couple of laps we had brought it back together. The pace was on for most of the bike, some surges and breakaway attemps which is quite unusual in womens [triathlon] biking. On the last lap Haskins and Ellis went for the bike prime and then keps the pace up Рwhich gave them an advantage of 30 odd seconds in T2.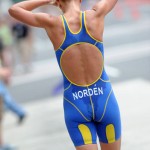 I had a great run¬†in and was 2nd out¬†of the group on the runcourse – on the heels of olympic medallist Emma Moffat. The¬†pace was close to furious and I realized quite soon that it was a little bit too fast for my current fitness level. Unfortunately¬†this wasn't soon enough and I could feel how one of my right abdominal muscles started to cramp up. This happened before in racing, when I go a little bit faster then the body can handle – and it decides to shut down the system. In madrid I¬†had a slight warning but when I dropped the pace a bit it then eased up. Today it didn't but went into cramp. I jogged for a bit just¬†hoping that it was going to ease up when the intensity dropped, but eventually I was forced to stop and have a proper stand still. The girls came flying past me and I had to fight with myslef not to throw my cap and abandon the course. But I don't like to drop out of races, don't like at all… After a while the body finally decided to get itself together and I could resume racing, or at least getting¬†myself around the course. I managed to finish 13th – which under the circumstances I'm quite happy(and surprised) with. I kept me overall WCS ranking at number 11th, so even tho it wasn't that fun today. It was still worth dragging myself around.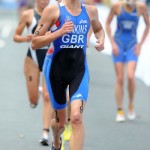 Not all days can be beautiful days…
But even tho I felt quite miserable I still had the great fortune of being able to celebrate! This as my training partner Daniela (also known as Swiss Miss) finished in a fantastic 3rd place!
Next up the road for me is a flight over to Des Moines tomorrow afternoon. The week will be recovery mixed with prep training and then the Des Moines World Cup race on saturday. Another chance to get it right..